Backyard Breeders
How about the "OFA certified" part? Nonsense. Puppies cannot have their hips formally rated by the Orthopedic Foundation for Animals (OFA) until they are two years old. The Pennsylvania Hip Improvement Program (PennHIP) will evaluate hips at four months of age, but most pups advertised in the newspaper are much younger than four months. (See Your Dog's Health Screening Documentation).The parents, on the other hand, should have OFA or PennHIP certification in most breeds. Exactly what the parents should have in the way of health clearances depends on the breed, so do your homework before you start puppy shopping. Finally, if the advertiser blanks out when you ask about OFA or Canine Eye Registry Foundation (CERF) (pronounced "surf"), run as fast as you can in the other direction. Same thing if he tells you something like "I don't bother with that stuff; my dogs don't have those problems" or "My vet says their hips are okay." Unless his vet is an orthopedic specialist and he is using x-rays, his evaluation doesn't mean anything.
Does "champion bloodlines" sound impressive? It's not. If you go back three or four generations, most purebred dogs—even those from puppy mills—have some champions in their background. That's because, unfortunately, some people breed pet-quality dogs to make money, and some people breed the pet-quality offspring of those dogs. When you look at a pedigree, the dogs that matter most are the parents and grandparents of the litter. They don't all have to be champions, but about half the dogs in the first two generations (parents and grandparents) should have titles of some sort to show that their breeders were serious about proving the quality of the dogs, not just about filling their pockets.
How about those registered Peek-a-Poos in #2? That's not a breed, is it? No, it's not. But there are a few organizations around that will register anything for a fee. (I know someone who registered her daughter with one of them!) In the United States and Canada, the legitimate multibreed registries are the American Kennel Club (AKC), the United Kennel Club (UKC), and the Canadian Kennel Club (CKC). There are also a few registries that register only certain types of dogs (for instance, the National Stockdog Registry (NSDR) registers herding breeds) or only a single breed (Jack Russell Terriers, Cavalier King Charles Spaniels, and Australian Shepherds, among others, have independent single-breed registries). Again, do your homework so that you know what's legitimate for the breeds you're investigating.
BowWOW
If puppies are advertised as "registered," be sure it is with a legitimate registry. A number of so-called registries were formed so that people who have lost their registration privileges with the AKC and other legitimate registries can still have "papers" on their puppies. Know the standard registries for your breed of choice.
Now, the rest of ad #2. Five weeks old and ready to go? Yes, they may be weaned, but five weeks is way too young for a puppy to leave home (see Bringing Doggy Home). As for the presence of both parents, you'll have to use some judgment on that. Sometimes a breeder owns a dog and a bitch that truly suit one another in terms of individual physical and mental traits as well as pedigree. That's fine, if the breeder can tell you why she chose to breed these specific animals. It's great if you can see both parents, but don't be alarmed if the sire lives a plane ride away. Serious breeders often send their bitches to "outside studs"—studs owned by other breeders—because they want the specific traits offered by a specific dog. If a litter owner refers to her "breeding pair," or if she always uses the resident male for all her females, that's not a good sign. It usually means she's selecting the sire based on convenience and financial concerns (no stud fee), not on sound principles of selective breeding.
Chew on This
One of your best tools as a puppy buyer is a basic knowledge of the breed you want. Get a good book from the library or go to the website for the breed's parent club, and learn the basics so that you know what to ask.
Now, what about those "rare silver Labs" in ad #3 (or rare white Boxers or rare long-haired Rottweilers?) Be careful about ads for anything "rare" in dogs. There are rare breeds, and in some breeds there are less-common colors that are still acceptable. But again, know your breed! Often colors and other traits are rare because they are not allowed by the breed standard. Sometimes they are disallowed for reasons that have nothing to do with suitability as a pet (although you certainly shouldn't pay more for a pup with a fault). But some colors are disallowed because with them come health problems. Finally, some traits are rare because the genes for them simply do not exist in certain breeds—meaning that the dog who has the trait is actually a cross. Such is sometimes the case with Silver Labs, which are either very poor specimens or are Labrador Retriever X Weimeraner crosses. The same applies to terms like "tea-cup" that are not part of the terminology used by responsible breeders. "Tea-cup" anythings are just very small individuals, and they often have health problems directly related to their size.
How about ad #5, the ad for several breeds? Or the breeder who runs a perpetual ad for puppies of one or two breeds? Look out! Raising puppies properly is exhausting, time-consuming work. Responsible breeders have one or two breeds, occasionally three, and they don't have litters all the time. Ads like that just scream puppy mill or really ambitious backyard breeder. There's no way that pups can be properly raised under such conditions. Please don't support that kind of irresponsible breeding.
Now let's look at the last ad, #6. It definitely sends a better signal than the others. Titles on the parents and grandparents suggest that their owners and breeders are serious about proving the dogs' abilities in competition, and the appropriate health clearances show they are interested in breeding healthy puppies. (If you don't know what the abbreviations stand for, ask when you call. In this case, vWB is von Wilbrandts disease, a bleeding disorder; OTCH is Obedience Trial Champion; CD is Companion Dog, an obedience title; and WC is Working Certificate, meaning she's passed a test of her retrieving instinct.) Not only that, but they don't want their pet-quality puppies to be used for breeding, and they have some requirements for their buyers other than cash on the barrel.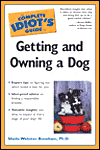 Excerpted from The Complete Idiot's Guide to Getting and Owning a Dog © 2003 by Sheila Webster Boneham, Ph.D. All rights reserved including the right of reproduction in whole or in part in any form. Used by arrangement with Alpha Books, a member of Penguin Group (USA) Inc.
To order this book visit Amazon's web site or call 1-800-253-6476.