Where Not to Buy a Dog
Please don't buy a puppy from a pet store. No responsible breeder ever sells puppies through a pet store. Regardless of what some stores claim, the truth is that pet stores get their merchandise—and that's exactly what puppies are to them—from commercial breeders, brokers, puppy mills, or backyard breeders. Responsible breeders do not think of puppies as merchandise, and they do not entrust the fate of their puppies to strangers. Pet store puppies are usually taken from their mothers and siblings when they're four or five weeks old, which is much too young for proper social development.
Pet stores rely on the cuteness of puppies as a selling point. They also rely on the emotional impulses of the people who walk in, cuddle a puppy, and can't bear to put him back in that cage. So out comes the credit card. Some people do luck out and get a reasonably good pet. But the odds are against it. People who are in the business of producing puppies for pet stores don't generally pay attention to health screening for hereditary disease. They match up sires and dams by availability (or sometimes by accident) rather than by careful selection. They don't bother to handle and socialize the puppies. How can they? There are just too many of them! No, the odds are that your pet store puppy will have health and temperament problems. To add insult to injury, pet store puppy prices often match or exceed the price of a responsibly bred puppy from a breeder. No, pet stores offer no bargains when it comes to puppies.
But don't they have to guarantee the pups they sell? Yes, most states have laws requiring a minimal guarantee or warranty, and most pet stores will take back a puppy within a certain time if certain conditions are met. Responsible breeders, in contrast, will take their puppies back at any time throughout their lives, because the puppy, not the dollar, comes first.
Pet store staff are usually not very well informed about the breeds they sell, but in my experience they rarely say "I don't know." I've had pet store personnel tell me that Labrador Retrievers have no hereditary health problems (they do! they do!) and that Australian Shepherds have personalities like Golden Retrievers (they don't! they don't!). In fact, pet stores offer virtually nothing in the way of support when it comes to training, behavior problems, health issues, or anything else.
All That Glitters Is Not Gold
There's another group of puppy producers you need to beware of as well. Unfortunately, some people who seem to meet the requirements of a responsible breeder at first glance don't stand up to a closer examination. An honest, ethical breeder is your best source for a healthy purebred puppy backed up by knowledgeable breeding. But you need to be cautious. Be cautious, and read Finding a Responsible Breeder about breeders—the good ones! Some of the snazziest websites and magazine ads belong to some of the sleaziest people, so don't be dazzled. Ask lots of questions and check references. There are excellent, honest breeders around, and one of them has the right pup for you. Being informed and patient will help you find her.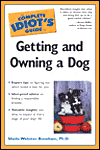 Excerpted from The Complete Idiot's Guide to Getting and Owning a Dog © 2003 by Sheila Webster Boneham, Ph.D. All rights reserved including the right of reproduction in whole or in part in any form. Used by arrangement with Alpha Books, a member of Penguin Group (USA) Inc.
To order this book visit Amazon's web site or call 1-800-253-6476.