Shelters and Pounds
When you visit the shelter, be alert to the physical environment. There will undoubtedly be a strong sense of dog in the air, but in general the place should seem clean. Ideally, dogs will not have physical contact with their neighbors, because nose-to-nose contact can quickly spread distemper, kennel cough, other diseases, and fleas. Feces spread from one kennel run to another can also spread diseases as well as intestinal parasites. Dogs in the adoptions area should appear fairly healthy. They may be thin and in need of a good grooming, but should not have discharge from their eyes or noses, and should not be coughing. Remember, if you adopt a dog that is ill, you can carry the disease home to any dogs you have and to your neighbors' dogs if they have contact or walk in the same areas.
If the shelter doesn't seem clean, or the dogs don't appear to be reasonably healthy, be cautious. Either adopt elsewhere or, if you really want a particular dog, consider taking him directly to your veterinarian for a thorough exam and possible quarantine before taking him home. Or quarantine him from your other dog at home until you're sure he isn't carrying any contagious disease. Many minor problems can be cleared up with good food, exercise, and care, but if you have another dog at home, it still pays to be cautious.
To adopt a dog from a shelter, you usually have to complete an application that asks for proof of residence and age, your experience as a pet owner, references, and, if you rent, the name and phone number of your landlord.
The next step is to choose your dog. A walk through the adoption area can be overwhelming—there are just so many dogs in need of homes. You can't take them all (really, you can't!), so before you go, make a list of the traits you want and the traits you don't want. Your list will keep you on track. Remember to include size (or potential size if you're looking at puppies), temperament, sex, type of coat and grooming required, and age. It's all too easy to lose your heart to every pair of big doggy eyes you see, so remember that many of those dogs are there because someone chose badly. For the sake of the dog, don't repeat the previous owner's mistake.
When you have chosen the dog you'd like to adopt, you usually have to wait from 24 to 48 hours before taking him home. This is to let you sleep on it and be sure this is the right decision, and to give your family time to talk over any concerns. It also gives the shelter staff time to check the information you provided. They want to be sure the animals they care for and send back into the world will be well cared for. You will probably pay an adoption fee, which may or may not include the cost of spaying or neutering your new buddy.
Dogs don't always appear at their best in a shelter environment. Many will be overly excited, or depressed and quiet, or downright scared. If you see a fellow you think you might like, ask if he can be taken to a quiet place where you can interact with him. Sit quietly for a while and see what happens. Maybe have a few treats in your pocket to show him you're a pretty good person. Your whole family should meet the dog before you decide for sure, but try to keep the initial meeting calm. Explain to your children that the dog may be a little afraid—kids are usually very sympathetic and gentle when they understand that.
When you officially adopt your dog, you'll probably sign a contract that will require you to keep the dog as a pet; to provide proper housing, food, and veterinary care; to have the dog spayed or neutered if that hasn't already been done; to allow postadoption visits by shelter staff; and to return the dog to the shelter if you can no longer keep him or her.
Adoption fees vary from shelter to shelter, depending on what services the shelter provides prior to adoption and also on the shelter's funding and budget. If you're so inclined, all shelters appreciate a little extra donation.
Please be just as careful in choosing a dog to adopt as you would be if you were choosing a dog to purchase. You don't want to end up with the wrong sort of dog, and nobody wants the dog to end up back at the shelter.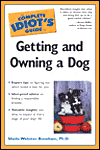 Excerpted from The Complete Idiot's Guide to Getting and Owning a Dog © 2003 by Sheila Webster Boneham, Ph.D. All rights reserved including the right of reproduction in whole or in part in any form. Used by arrangement with Alpha Books, a member of Penguin Group (USA) Inc.
To order this book visit Amazon's web site or call 1-800-253-6476.