Watching for Signs of Stress in Your Dog
If your dog is stressed and you don't know it, you might instead believe that you have a stupid or stubborn dog because of her behavior. She may be nervous about a new location or new people, but you believe that she's being "bad" when she ignores you. So you end up jerking her around and, in effect, punishing her for being afraid.
It's a dangerous thing when a dog loses her ability to tell you that she's anxious. Without the means to give off the early warning signs (also called calming signals) of nervousness, a dog is more likely to go directly to the more serious aspects of warning—growling and biting.
Muttley Meanings
Provoking stimuli are things that your dog is afraid of. These can include people, dogs, cows, horses, fence posts, drainpipes, petting in inappropriate ways, the vacuum cleaner—basically anything that makes the dog nervous.
Learn to read your dog for signs of stress. If a child or stranger is approaching and your dog exhibits early signs of stress (lip licking, head turning, backing away, etc.), don't allow the person to approach any closer. Allowing a person to continue to approach will either put the dog into a more defensive posture or cause her to be more afraid and try to run away.
Growling
Muttley Meanings
Desensitization or systematic desensitization is a form of counterconditioning, a procedure in which a phobic (scared) subject (human or animal) is subjected to low levels of the frightening stimulus while relaxed. The level of frightening stimulus is gradually increased, but never at a rate to cause distress. Eventually, the fear dissipates.
Counterconditioning is the use of classical conditioning to reverse the unwanted effects of prior conditioning.
A growl is an important mode of communication from the dog to you. It's not aggression—it's a warning. When the police say, "Stop or I'll shoot," this doesn't mean that they will shoot regardless of what you do or don't do; it's a warning.
If you punish a dog for growling, you deny yourself a warning that your dog is feeling threatened. If you're smart, you'll thank your dog for growling because he's just letting you know that he's very uncomfortable, and if you don't stop what you're doing, he may bite you. A growling dog doesn't want to bite you—that's why he's growling as a warning.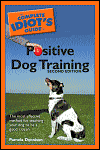 Excerpted from The Complete Idiot's Guide to Positive Dog Training © 2005 by Pamela Dennison. All rights reserved including the right of reproduction in whole or in part in any form. Used by arrangement with Alpha Books, a member of Penguin Group (USA) Inc.
To order this book visit the Idiot's Guide web site or call 1-800-253-6476.