Watching for Signs of Stress in Your Dog
Don't Punish the Warning Signs!
Doggie Data
When I was a groomer, if a dog growled at me I would praise her and give her treats. Why? Because she warned me that if I continued, I was going to get bloody. As a result, I was never bitten.
Dogs learn by association. If you punish a dog for growling, he learns to associate the bad feeling that the punishment gave him with that other object—be it another dog, person, or child. The dog already felt some anxiety or fear about that object to start off with, and now your punishment made him even more fearful.
If you haven't done anything to train an alternative behavior or desensitize the dog to that object, the next time he comes in contact with that object, those bad feelings will occur again—perhaps stronger this time. The dog will be even more anxiety-ridden in the presence of that stimuli and will feel an even greater need to be defensive. But now he can't even tell you because you punished him for giving his warning signs. And because he was punished for growling, he may go directly to biting without a warning.
If the dog is growling at you, please, please, pretty please don't take it personally. Your dog is just telling you that he doesn't like whatever it is you're doing. There may be an underlying cause— physical or mental—of the growling. Perhaps you hurt him inadvertently or he has a boo-boo that you didn't see.
Make sure there's no hidden reason, and then use the growl as a wake-up call to train the dog to accept whatever it is that made him unhappy. If you see these signs, you must desensitize and countercondition your dog to any provoking stimuli.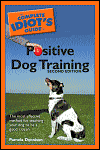 Excerpted from The Complete Idiot's Guide to Positive Dog Training © 2005 by Pamela Dennison. All rights reserved including the right of reproduction in whole or in part in any form. Used by arrangement with Alpha Books, a member of Penguin Group (USA) Inc.
To order this book visit the Idiot's Guide web site or call 1-800-253-6476.