The 15-Minute Strength-Training Workout
A Helping Hand
Good old manual resistance is a solid tactic to work your muscles when there's no equipment around. To do these exercises, however, requires another human being. Manual resistance exercises, or manuals, involve your workout partner creating the resistance by applying force against you. While equipment isn't needed to get a good manual workout, you might want to add high-tech, state-of-the-art tools such as a towel or a broomstick to help you make some of these exercises more effective.
In 1997 Jonathan, a near-professional skeptic, took a workshop with John Philbin, an assistant strength coach for the NFL's Washington Redskins and president of the National Sports Performance Association (NSPA). Philbin demonstrated how strength coaches and personal trainers can employ manual resistance with a wide variety of clients. After demonstrating exercises for every body part on a variety of people, Philbin had convinced Jonathan.
According to the NSPA, here are the advantages of manual resistance exercises:
No equipment is needed.
You can do it anywhere.
It's an effective substitute for normal routines.
The speed of exercise can be controlled.
Their list of disadvantages includes:
You need two people.
It requires skill to be a good spotter.
The spotter must be aware of the lifter's capability.
You can't measure strength gains.
The lifter may be significantly stronger than the spotter.
Here are a few manual resistance exercises you can do in 15 minutes:
Body Part
Exercise
Legs/hips
Leg extension
Leg curl
Back
Lat pull down
Chest
Chest press
Shoulders
Lateral raise
Arms
Biceps curl
Triceps extension
Midsection
Crunches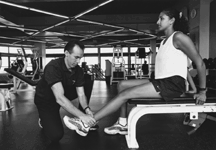 For the manual resistance leg extension, the spotter presses down on the lifter's ankle, while her upper leg is supported on the bench.

When performing a manual resistance leg curl, the lifter curls back as the spotter pushes against her.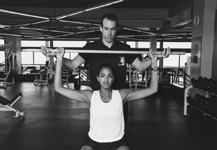 For the manual resistance lat pull down, the spotter pushes up on a broomstick as the lifter pulls down.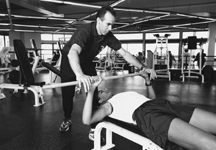 Here, the spotter pushes down on the broomstick as the lifter pushes up.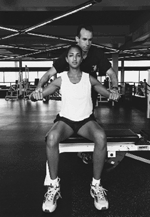 For the manual resistance lateral raise, the spotter presses down on the lifter's ben elbows.

The spotter pulls down on a towel as the lifter curls it up.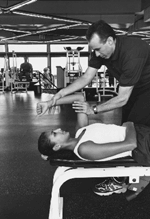 In the triceps extension, the spotter presses against the lifter's wrist.

Excerpted from The Complete Idiot's Guide to Short Workouts © 2001 by Deidre Johnson-Cane, Jonathan Cane, and Joe Glickman. All rights reserved including the right of reproduction in whole or in part in any form. Used by arrangement with Alpha Books, a member of Penguin Group (USA) Inc.
To order this book visit the Idiot's Guide web site or call 1-800-253-6476.