10 Ways to Declutter Your Home
| | | |
| --- | --- | --- |
| | 3 of 11 | |
Read and Recycle
---
Magazines and other reading material (apart, that is, from books) should be read and then recycled. Tear out any interesting pages.
Next: Rent a Dumpster
More on: Home Improvements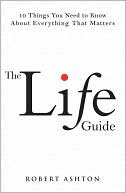 From The Life Guide Copyright © 2008, FT Press. Used by permission of FT Press, and Pearson Education. All rights reserved.
To order this book go to Amazon.