10 Ways to Declutter Your Home
| | | |
| --- | --- | --- |
| | 5 of 11 | |
Don't Be Too Sentimental
---
If aging relatives give you things that mean a lot to them, they're only trying to help. However, you want your home to reflect your own happy memories, not theirs. Tactfully take what is offered, but don't feel duty bound to put it all on display.
Next: Clean Your PC
More on: Home Improvements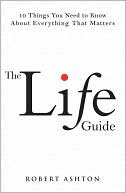 From The Life Guide Copyright © 2008, FT Press. Used by permission of FT Press, and Pearson Education. All rights reserved.
To order this book go to Amazon.