Jack and the Cuckoo-Clock Heart 3D (Jack et la Mecanique du Coeur 3D),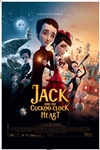 | | |
| --- | --- |
| Rating: | PG (for scary images, suggestive material, some language and smoking) |
| Genre: | Drama, Animation |
| Release Date: | September 24, 2014 |
| Running time: | 90 minutes |
| Cast: | Mathias Malzieu, Olivia Ruiz, Emily Loizeau, Rossy de Palma, Arthur H |
| Director: | Mathias Malzieu, Stéphane Berla |
| Producer: | Luc Besson, Virginie Silla |
| Writer: | Mathias Malzieu |
| Distributor: | Shout! Factory |
Web Site: http://www.jackandthecuckooclockheart.com
Description: Edinburgh, late 19th century. Little Jack is born on a day so cold that his heart remains frozen. In her house on top of a big hill, Madeleine the midwife replaces the defective organ with a cuckoo-clock. It will work, she warns him, as long as Jack doesn't touch the hands of the clock, doesn't lose his temper, and, above all, doesn't fall in love. But Jack's encounter with a fiery-eyed little girl singing on a street corner and his decision to chase after her across Europe to Andalusia test the resistance of his makeshift heart to the breaking point...
Movie summaries and listings powered by Cinema-Source