Sizing Up Your Plate
Body of Knowledge
By filling almost half your plate with vegetables and having another quarter for fruit, you'll be sure to eat the recommended amount of 5-10 servings of vegetables and fruit every day.
If you're a visual person and have been known to eat based on what your eyes can take in rather than on what your stomach can accommodate, the Plate Method could be just what you need.
The Plate Method is designed to show you what and about how much you need to eat to lose weight. So here's what to put on your plate (see the figure that follows):
Fill just about half of your plate with nonstarchy vegetables. These include all nonstarchy vegetables located on the bottom of the pyramid.

Fill about one quarter of your plate with low-glycemic starches, fruit, or dairy products.

A little less than 1⁄4 (20-25%) of your plate is for lean protein, including meats, seafood, or poultry. Figure that 1⁄4 is about 3 to 4 ounces.

The remaining wedge of your plate, or about 5% or less, is for healthy fats, such as olive oil, avocados, and nuts and seeds.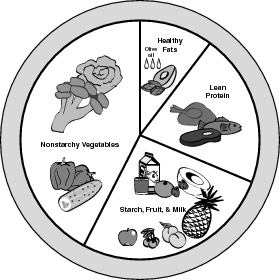 Weighty Warning
Compare the size of a modern dinner plate to one in Grandma's china set. A modern dinner plate has 36 square inches of surface area, compared to 33 on Grandma's. Simply by using a smaller-sized plate, you'll eat less food at every meal. Eating all the food on those extra 3 square inches three times a day can add up quickly to increase your waistline by 3 more inches.
In actuality, your plate won't look exactly like this. Usually, the fats will be part of your foods, as dressing for your vegetables, or as nuts and seeds sprinkled over your salad. And, as you know, oils run and spread all over the other foods.
The Plate Method works for all the eating programs and also is great for weight-loss maintenance. You'll be keeping your portion sizes moderate, and you'll be eating healthfully. Teach your children to use the Plate Method. Most likely, they'll relate better to the plate than the food pyramid. You can even have them make meal suggestions based on the Plate Method!
Try it a few times. Serve food onto your plate with a sense of how it should look according to the preceding formula. In no time at all, you will be using it—even at challenging eating situations, such as buffets, potluck dinners, Grandma's house, or with your children.
And one final Plate Method suggestion … serve dinner from the stove, not family-style with bowls of food at the table. This discourages overeating and encourages controlled eating based on feelings of real hunger and satisfaction. This might clash with family tradition, but try it and see whether it doesn't help limit unconsciously eating second and third helpings.

Excerpted from The Complete Idiot's Guide to Healthy Weight Loss © 2005 by Lucy Beale and Sandy G. Couvillon. All rights reserved including the right of reproduction in whole or in part in any form. Used by arrangement with Alpha Books, a member of Penguin Group (USA) Inc.
To order this book visit the Idiot's Guide web site or call 1-800-253-6476.