How to Get Out of Debt
Quit Saving Money
This might be surprising advice. After all, saving money is a good thing, right?
The problem is your debts are probably costing you more than your savings are earning for you. For example, you might be paying 18 percent interest on your credit card debt and earning less than 5 percent on savings. That's a huge net loss.
In a simple-interest example, depositing $5,000 in a 5 percent savings account earns you $250 a year, which the government then taxes. But if you used that $5,000 to pay down an 18 percent-interest credit card, you save $900. And you pay no tax on that kind of savings.
In fact, after you have a starter emergency fund of $2,500, you can use other saved money to pay off high-interest debt. Again, it makes no sense to have a certificate of deposit earning 5 or 6 percent while paying double-digit interest on debt.
A possible exception to the "Quit Saving" rule is if you have an automatic retirement savings plan, such as a 401(k), 403(b), or automatic deposits to a Roth IRA. If that kind of plan is already on autopilot with 10 percent or less of your income, you can leave it alone. A definite exception is if your employer matches your contributions in a retirement plan. You want to capture all of that free money you can.
However, if you can get intense about paying off your debt, stopping retirement savings for a short time will get you out of debt faster.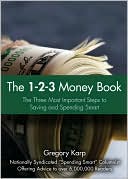 From The 1-2-3 Money Plan Copyright © 2009, FT Press. Used by permission of FT Press, and Pearson Education. All rights reserved.
To order this book go to Amazon.