How to Get Out of Debt
Pay Small Debts First
How do you prioritize which debts to pay extra on? The biggest debt or smallest debt? Highest interest rate or lowest?
I like a hybrid plan that goes like this:
Pay off debts of less than $1,000 first, from smallest to largest, while paying minimums on other debts.
Then, pay off debts greater than $1,000 from highest interest rate to lowest, while paying minimums on others.
Each time you kill off a debt, you apply that payment to the next debt. When that's done, you roll the combined total into the next debt, and so on. That's the debt snowball.
This debt-repayment plan is a modified version of a plan espoused by Dave Ramsey, a radio-show host and author of The Total Money Makeover. He didn't invent the idea of paying debts smallest to largest and snowballing them, but he's best known for it.
Of course, mathematics says you should pay the highest interest-rate debts first to avoid paying the most interest. This is easy to understand and logical.
But getting out of debt is a lot like dieting. It's difficult and takes a huge helping of self-discipline. By paying off small debts first, you can wipe out a number of them and feel like you're gaining traction and succeeding. It's the atta-boy or atta-girl to help you keep going and pay off more debt, just like losing a few pounds during the first days of a diet. It gives you encouragement to continue.
So much with money has more to do with what's between our ears than what's in our wallets. The emotional lift from wiping out small debts is well worth whatever small amount of interest you might have saved by paying first on a huge high-interest debt that takes years to eliminate. Just make sure to get rid of those small debts quickly.
Once you get to your large debts, you'll be better off paying more attention to the interest rate. For example, you would pay off a $10,000 credit-card balance at 18 percent before paying off a $9,000 auto loan at 7 percent.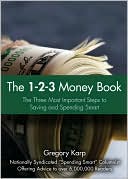 From The 1-2-3 Money Plan Copyright © 2009, FT Press. Used by permission of FT Press, and Pearson Education. All rights reserved.
To order this book go to Amazon.