Savings Quick Tips: Pay Less for Your Landline
Consider VoIP. Voice over Internet Protocol, pronounced "voyp," sounds techie, but it's becoming a mainstream way to use your high-speed Internet service as your phone line. With paid services, such as market-leader Vonage, you can use a normal telephone and keep your same phone number. Installation involves attaching a small box to your high-speed Internet connection and plugging a regular phone into the box. VoIP kits can be found at many big-name electronics stores. Such companies as Vonage, Packet8, and even traditional phone carriers offer unlimited local and long-distance VoIP calling packages at nearly half the price of similar traditional landline packages, with fewer junk fees and taxes. And they tend to offer a ton of calling features, far beyond call waiting and caller ID, for no additional cost. Call quality is generally good with VoIP, without echoes or delays, but will only be as good as your broadband connection. And realize your phone service won't work during outages in your electricity or Internet service. For that reason, it's good to have a wireless phone too, perhaps with a car charger or backup battery.
Try free Internet calls. Other services that use VoIP are free and don't use phone numbers. Instead, they use a small software program on your Internet-connected computer to talk to anyone else in the world with the same software on their computer. The disadvantage is you are tethered to your computer with a microphone and speakers, or a headset that includes both. If you want to try VoIP before committing to a paid plan, try a free service first. The most popular choice is Skype, www.skype.com, which is owned by online auction site eBay. Similar offerings come from instant messenger services such as Windows Live Messenger, Google Talk, AOL's AIM Triton, Yahoo! Messenger with Voice, and ICQ. Besides free calls, Skype and most of the IM services also offer paid services for calling real phone numbersâ€"landline or wirelessâ€"from your computer or receiving calls on your computer from conventional phones. Internet calling, even if you have to pay a modest fee, becomes well worth the hassle if you make many expensive international calls.
Dial extra digits. Prepaid phone cards and dial-around numbers are another way to lower your long-distance bill. Both require you to dial a few extra digits on your home phone. You can buy prepaid cards at such wholesale clubs as BJ's, Sam's Club, and Costco. The rates are usually rock-bottom, many less than 5 cents a minute. When making a call, you usually enter an access code and then the phone number you want to call. Most modern phones allow you to program such an access code into your telephone so you don't have to hunt for the card each time you call. A warning, though: Stick with cards from reputable retailers and long-distance carriers. With dial-arounds, you dial 10-10 plus a three-digit prefix before the number you want to call. A comparison of dial-arounds is available online at www.10-10PhoneRates.com. Watch the fine print for connect fees, monthly minimums, and other gotchas.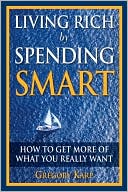 From Living Rich by Spending Smart Copyright © 2008, FT Press. Used by permission of FT Press, and Pearson Education. All rights reserved.
To order this book go to Amazon.