Savings Quick Tips: Pay Less for Your Landline
Skip the add-ons. Even if you don't change the way you make calls, you can save money by examining your add-on services, such as call waiting, caller ID, three-way calling, call forwarding, and voicemail. They can cost several dollars apiece. The dirty little secret of the telephone industry is that most of those services cost very little to provide, but then they charge you $8 a month for caller ID and $3 for call waiting. Wire insurance, often called "wire maintenance" is optional. Most people can cancel the several-dollar monthly charge, which is a kind of insurance for problems with inside phone wiring and jacks. If you have wire maintenance, wiring repair inside your house is free. However, those repairs are rare, unless you have a very old house.
Dial smart. Directory assistance is an expensive service for what you get, often costing $1 or more per look-up if you use 411 or the older 555-1212. Phonebooks and Internet look-up sites are free. Sites include www.switchboard.com, www.smartpages. com, www.superpages.com, and www.infospace.com. It also helps to maintain a good list of regularly called numbers. A free service called 1-800-FREE411, which is the number you dial to use it, will look up a number for free, but you have to listen to a ten-second advertisement. If you're looking for a toll-free number, dial 800-555-1212 to get a free look-up.
The last thing to know about home phone service is that offerings change frequently, and it can pay to keep on top of the latest telecom choices. For example, I got a brochure in my phone company bill that outlined a calling bundle similar to the one I already had -- for my needs, it turned out a bundle was, in fact, a good way to go.
The lower-tier bundle was similar to the one I had but didn't include free calls to Canada, which I rarely used; three-way calling, which I never used; and speed-dialing, which I never bothered learning how to use. So, I dropped down to the cheaper plan and saved $15 a month. That was possible only because I knew the cheaper plan existed. Reading about the plan online and calling the phone company to switch plans took about ten minutes. That's $180 a year in savings, just because I bothered to read an advertisement that came with my phone bill. In fact, it's not unusual for me to change phone plans several times a year, as better deals become available. Chances are, you could save money too.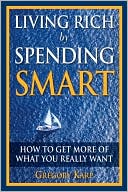 From Living Rich by Spending Smart Copyright © 2008, FT Press. Used by permission of FT Press, and Pearson Education. All rights reserved.
To order this book go to Amazon.