How to Buy Online -- Without Getting Ripped Off
Consider Shipping Cost Versus Sales Tax
The biggest drawback to ordering online is the item has to be shipped to you. That means you'll have to wait a few days, which a lot of us aren't very good at. More important, you often have to pay shipping and handling charges.
You'll find some listings have a very low price for the product, but exorbitant shipping fees. This happens a lot on auction site eBay.com. Bulky and heavy items, such as televisions, can cost more than $100 to ship.
In the end, all you should care about is the total price. So, always add together both components of an online purchase -- the purchase price, plus shipping and handling. Often, you'll find online prices to be so much lower that it's still cheaper to buy online, even if you have to pay for shipping and handling.
One advantage of online shopping is you won't necessarily have to pay state sales tax on the purchase. If the retailer has no locations in your state, it is not required to collect sales tax on checkout. Technically, most states require you to pay sales tax on Internet purchases, presumably by keeping track of purchases and accounting for the tax on your state income tax form. But almost nobody does that, which essentially makes Internet purchases from out-of-state retailers cheaper.
I'm not saying that avoiding state sales tax on Internet purchases is right or wrong. I'm just saying that's how it is. Still, this is a fluid issue, as state governments try to fill their coffers by collecting sales-tax money from Internet sales. So, stay tuned.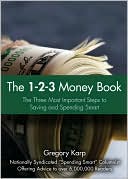 From The 1-2-3 Money Plan Copyright © 2009, FT Press. Used by permission of FT Press, and Pearson Education. All rights reserved.
To order this book go to Amazon.