How to Buy Online -- Without Getting Ripped Off
Use a Credit Card
QUICK TIP
Get an autofill program. These little computer programs will fill in your name and address information and some even store your credit card information, so you don't have to fetch your card each time you buy something online. Just as valuable, these programs automatically fill in your logins and passwords to all the different retailers you buy from. There are some free autofill programs available, often as plug-ins for Web browsers, such as Google Toolbar, toolbar.google.com. I shop online so often, I bought a robust form filler called RoboForm Pro, www.roboform.com (Windows only).
Use a credit card for online transactions because the consumer protections are so much stronger than for debit cards. This is especially true if you're dealing with unfamiliar sellers.
A big benefit of using a credit card is its dispute service. If you have a problem with the Internet merchant and can't get it resolved, pass the dispute on to your credit card company and allow them to battle the retailer for you.
Further, if someone at that retailer misuses your card and starts making purchases with it, you're not liable for them. By federal law, you're liable for $50, but all the major credit card companies limit your liability to zero.
Of course, these protections apply whether you're shopping online or in a real store. But online you have a greater chance of dealing with an unfamiliar retailer. Credit cards are a buffer between you and a strange merchant.
One exception to this rule is if you don't own a credit card and don't want to. Maybe you've gotten into trouble before running up balances you had trouble paying off. In that case, you're left with using your debit card that acts as a Visa or MasterCard.
Other intermediary forms of online payment, such as PayPal and Google Checkout, can link to credit cards and bank accounts. But they're not widely available as payment options.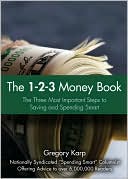 From The 1-2-3 Money Plan Copyright © 2009, FT Press. Used by permission of FT Press, and Pearson Education. All rights reserved.
To order this book go to Amazon.