Savings Quick Tips: Don't Pay Anyone to Hold Your Money
Use combined accounts. Sometimes you can avoid minimum-balance rules if you have multiple accounts or loans through the same bank. Also, some banks will base the minimum on the combined balances of all your accounts.
Try online banks. You don't get to make small talk with a bank teller, but banking online is a better deal for most people because the minimum balances needed to avoid fees are lower. Also, online banks' interest-bearing checking accounts yield significantly more than bricks-and-mortar banks on average. That means you're achieving investing's Holy Grail, greater return for no more risk, assuming the online bank is federally insured (FDIC). For savings, try such online banks as Emigrant Direct, www.emigrantdirect.com; ING Direct, www. ingdirect.com; and HSBC Direct, www.hsbcdirect.com. All offer far more interest than traditional savings accounts. If you're uncomfortable with online banking, try opening an online account with a small deposit until you become more comfortable with the process.
Use automatic transactions. Online bill paying and automatic bank account withdrawals can eliminate the expense of a check. It also ensures you don't get hit with late fees. For example, you might allow the electric company to automatically debit your checking account to pay your bill. In addition, automatic deposit of your paycheck gets money into your account quickly and efficiently, which may prevent overdraft penalties.
Try your credit union. Credit unions have a long tradition of offering some of the most consumer-friendly bank accounts. They're worth a look.
ATM fees. Americans waste billions of dollars a year taking withdrawals from another bank's teller machine. The most obvious advice is to manage your cash, so you can always take out fee-free money from your own bank's ATM or one affiliated with your bank's ATM network. Failing that, if a grocery store is nearby, buy something small and pay for it with a debit card. Then get cash back by charging more than the amount of the purchase. You won't have to pay a fee, and the result is the same as an ATM withdrawal. Fortunately, some banks are eliminating ATM fees altogether as a marketing tactic, but it's not yet widespread.
Beware overdraft loans. When a bank customer's account is empty, the bank will cover a check, ATM withdrawal, or debit card transaction without warning or notice. Then when the customer makes a deposit, the bank takes back the overdrawn money plus a fee of, say, $20 to $35. Worse, it's a "service" the customer never requested, but some banks automatically attach it to accounts. Many consumers would be better off if the bank just rejected the withdrawal request when there was not enough money in the account. Though not technically loans, the fees can be equivalent to a loan with 1,000 percent interest. So it's worth taking great pains to make sure you don't overdraw your accounts by diligently monitoring them and maintaining a cash cushion.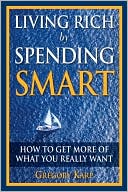 From Living Rich by Spending Smart Copyright © 2008, FT Press. Used by permission of FT Press, and Pearson Education. All rights reserved.
To order this book go to Amazon.