10 Simple Things to Improve Your Diet
Learn 10 quick tips on how you can improve your diet for weight loss and ultimate healthiness.
| | | |
| --- | --- | --- |
| Previous | 1 of 11 | |
Lots of Water
---
Our bodies are almost 70 percent water, so you need to drink plenty, especially when the weather is warm or you're feeling hot. Make carrying a bottle of water a habit, and you'll find yourself drinking more.
Next: Watch the Fat
More on: Mom's Health and Fitness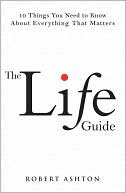 From The Life Guide Copyright © 2008, FT Press. Used by permission of FT Press, and Pearson Education. All rights reserved.
To order this book go to Amazon.