10 Simple Things to Improve Your Diet
| | | |
| --- | --- | --- |
| | 4 of 11 | |
Watch the Alcohol
---
If you drink, remember that alcohol is packed with calories and won't help you lose weight. Drinking too much can also damage your health. Think before you drink.
Next: Don't Skip Breakfast
More on: Mom's Health and Fitness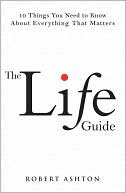 From The Life Guide Copyright © 2008, FT Press. Used by permission of FT Press, and Pearson Education. All rights reserved.
To order this book go to Amazon.