10 Simple Things to Improve Your Diet
| | | |
| --- | --- | --- |
| | 6 of 11 | |
Don't Forget Your Veggies
---
If you mainly eat meat, or perhaps choose not to eat certain types of food, make sure you're getting everything you need from your diet.
Next: Fill Up with Fiber
More on: Mom's Health and Fitness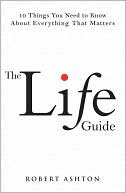 From The Life Guide Copyright © 2008, FT Press. Used by permission of FT Press, and Pearson Education. All rights reserved.
To order this book go to Amazon.