10 Simple Things to Improve Your Diet
| | | |
| --- | --- | --- |
| | 8 of 11 | |
Little and Often
---
Eat when you're hungry, not just because it's lunchtime. Many people prefer to eat several small meals rather than three big ones. Would this suit your lifestyle?
Next: Go Raw
More on: Mom's Health and Fitness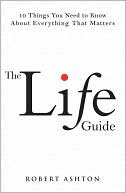 From The Life Guide Copyright © 2008, FT Press. Used by permission of FT Press, and Pearson Education. All rights reserved.
To order this book go to Amazon.