Essential Rules of Parenting: Discipline Do's and Dont's
I don't know about you, but I don't like the word "discipline." It implies telling off, punishment, even (heaven forbid) beating. Children should be seen and not heard-all that stuff. Actually though, after you get over the word itself, it's a handy essential skill for parents. If you get the discipline thing right, it is so much easier being a parent-and being a child.
(Excerpted from "The Rules of Parenting" by Richard Templar)
| | | |
| --- | --- | --- |
| Previous | 1 of 7 | |
Present a United Front
---
You have to understand that when you undermine your partner, you are not being kind to your children so that they will love you more. (Yes, admit it; that's the bottom line.) You are actually confusing them and undermining their respect for both of you and their confidence in those all important boundaries.
If you're a single parent, you're not off the hook. This still applies every time there's someone else sharing responsibility for the children. Your parents when they go on vacation with you, or your daycare provider, or your friend who looks after them on Tuesday afternoons after school.
If you want your child to feel secure, you have to back each other up. And that means sharing the bad cop role, too. It's worth it: They'll feel happier, clearer about boundaries, and they'll respect (and love) you both for it. Eventually.
Of course, you don't have to agree on every tiny possible rule in advance -- when it comes to the detail, you have to only agree that whatever one of you says, the other will back up if asked. "If Daddy says no, then the answer's no." The crucial thing to understand is that, apart from the big stuff that you should have agreed on in advance, the fact that you agree is more important than what you're agreeing about.
Next: Be Consistent
More on: Discipline Strategies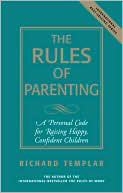 From The Rules of Parenting Copyright © 2008, FT Press. Used by permission of FT Press, and Pearson Education. All rights reserved.
To order this book go to Amazon.