Essential Rules of Parenting: Discipline Do's and Dont's
| | | |
| --- | --- | --- |
| | 2 of 7 | |
Be Consistent
---
When I was a kid, you could answer my mom back one day and she'd laugh and tell you she was pleased you could stand up for yourself. Next day, you could say the same thing and get walloped for it. And there was never any clue to which way she'd go. This applied not only to giving her back talk, but to most other things, too. It meant I spent a lot of my time walking on eggshells.
It also meant I had no idea what was and wasn't allowed -- it seemed to be decided on some kind of secret lottery basis that I wasn't privy to. So there was little point in regulating my behavior. After all, I might get into trouble, but then again I might not. It generally seemed worth the risk -- certainly to me.
Your kids are just the same. They need to know what is and isn't acceptable. And they judge that by what was and wasn't okay yesterday and the day before. If they're not getting a consistent message, they're clueless as to how they have to behave, and those all important boundaries aren't being properly maintained. That means the kids feel confused, insecure, and perhaps even unloved.
I'll tell you the toughest thing about this Rule: It means that a lot of the time, you can't break the rules even when you want to. It's just not fair on the kids. If you've decided that you don't allow the kids to sleep in your bed with you, you have to stick to it (unless you're prepared to change the rule permanently). Just because your little one was a bit sad about something today, and they're so warm and snuggly and smelling of bathtime, and you're feeling a bit down yourself anyway…no, no, no! Stop right there! Let them into your bed once and it will be ten times harder to say no to them next time, and they won't understand why. Say no now (softly and with an extra hug) and you're only being cruel to be kind (to yourself as well as them).
More on: Discipline Strategies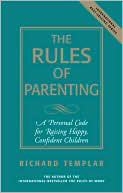 From The Rules of Parenting Copyright © 2008, FT Press. Used by permission of FT Press, and Pearson Education. All rights reserved.
To order this book go to Amazon.