7 Essential Rules to a Happy Family Life
| | | |
| --- | --- | --- |
| | 2 of 8 | |
Nothing Is Worth Falling Out Over
---
My mother and my grandmother didn't speak to each other for the last 15 years of their lives. Some families are like that; strained relationships all over the place, siblings who don't speak, cousins who everyone has lost track of and no one even has their address.
It runs in families. We learn by example, and if you grow up in a family where people have long-term feuds with relatives that tends to become the norm. That means that if you stop speaking to your own mother or father, one of your kids may spend 20 years not speaking to you. It's a childish form of behavior to demonstrate to our children, but some people do it.
It's such a shame, too. Not only is it a bit pathetic that we'd rather cut off diplomatic relations than sort out the problem, it's also sad that we end up without a parent/sibling/cousin who will be there for us when we need them.
Good family relationships are the strongest relationships there are. When things go wrong, your family should be there to get you through more reliably and longsufferingly than anyone else. It's not like that for everyone, but it can be like that at its best. Whether you're badly injured, divorcing, redundant, widowed, having your home repossessed, facing a court case, have a desperately ill child, have a problem with drugs or alcohol, or whatever might come along in your life, it's family who will stick by you even if they don't really approve. Family will continue to stick by you for months or years until you're back on your feet.
Frankly, that's worth a hell of a lot. It's worth forgiving and forgetting whatever it is that tempted you to stop speaking to them because that's the deal. If you want your family to be there for you, you've got to be there for them. That means letting go of the frustration and the angst they can sometimes cause, turning the other cheek, and realizing that the families who stop speaking to each other are the ones who will leave you in the lurch when you hit times of trouble.
Next: Treat Them the Way You Believe Is Right, No Matter How They Treat You
More on: Instilling Values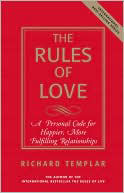 From The Rules of Love Copyright © 2009, FT Press. Used by permission of FT Press, and Pearson Education. All rights reserved.
To order this book go to Amazon.