7 Essential Rules to a Happy Family Life
| | | |
| --- | --- | --- |
| | 5 of 8 | |
Never Be Too Busy for Loved Ones
---
I'm as guilty here as anyone. It's so easy to think, "I'm tired. I'll give them a call tomorrow," and before you know it a dozen tomorrows have gone by and you still haven't called.
That's really not good enough. If you want a strong relationship with your family, you have to work at it, just as you do with your partner. That means investing time. You need to find time to see them even if they live a long way away, and you need to put effort into calling them between times to keep in touch (note to self). It's so easy to fall into benign neglect. You didn't mean to not speak for three months, it just sort of happened. Well, don't let it.
Of course, your family may not be any better than you at finding time. They may even be worse. That doesn't let you off the hook: Two wrongs don't make a right. If they're useless at it, all the more reason why you need to make the effort. Otherwise, you'll find eventually that you don't have a family worthy of the name any more -- and that would be really sad.
So forgive your sister for being hopeless at calling and your father for being forgetful, and make the call or the trip yourself. They'll appreciate it and you'll be glad you did it.
Every family has its stray sheep who wander off without telling anyone where they're going, and don't get in touch for ages. They all have their "sheepdog" who rounds everyone up and counts them and checks to make sure they are okay. Don't resent the fact that you're doing more of the work than someone else. It's the way of the world--and the important thing is that between you all, you manage to keep in touch as much as you can.
More on: Instilling Values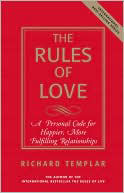 From The Rules of Love Copyright © 2009, FT Press. Used by permission of FT Press, and Pearson Education. All rights reserved.
To order this book go to Amazon.