Basic Rules for Financial Freedom: Get in the Wealthy Mindset
| | | |
| --- | --- | --- |
| | 2 of 10 | |
Decide on Your Definition of Wealth
---
So, what, to you, is wealth? This is one you have to sit down and work out in advance if you are going to get wealthy. My observation is that wealthy people invariably have worked this one out. They know exactly what, to them, wealth means.
I have a wealthy and extremely generous friend who says that he knew long ago when he was starting out in business that he would consider he had made enough when he wasn't living off the money he had amassed (which we will call his capital). Nor would he be living off the interest on his capital. No, he would consider himself wealthy when he was living on the interest on the interest on his capital. Sounds good to me.
Now, this friend knows how much his interest on the interest is making him, pretty much by the hour. Thus, if we all go out for a meal in the evening, he knows (a) how much the meal has cost and (b) how much he has made while eating the meal. He says that as long as (b) is more than (a), he is happy.
This is setting the definition of wealth pretty high, you might think. Maybe you wouldn't want to set it this high. And that's fine, of course. Then again, maybe you'd want to put some kind of figure on it. In the old days, everyone wanted to be a millionaire. That was an easy one to judge if you'd gotten there or not. Today, there are a lot of people who have houses worth more than that, and they wouldn't consider themselves wealthy at all and yet haven
Next: Set Your Objectives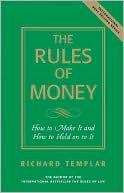 From The Rules of Money Copyright © 2007, FT Press. Used by permission of FT Press, and Pearson Education. All rights reserved.
To order this book, buy on Amazon.