Basic Rules for Financial Freedom: Get in the Wealthy Mindset
| | | |
| --- | --- | --- |
| | 3 of 10 | |
Set Your Objectives
---
By defining what you mean by wealth, you now have a destination. Setting your objectives is establishing a timetable to reach that destination. It's quite simple. If you know you are going to drive to a certain place, it makes sense to know
What time you are leaving home
What time you expect to arrive
What route you are going to take
What you will be doing when you get there
Getting rich is the same. You will want to know in advance what rich means to you, how you intend to get there, how long you expect it to take, and what you are going to be able to do or want to do with your money when you get it.
So, having defined what wealth means to you, can you now see the importance of setting your objective? Think about how you intend to get rich and how long it is going to take you, and then set your objective. It might be simple: "I am going to be a millionaire by my fortieth birthday, and I shall make my money by running my own property development company."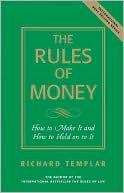 From The Rules of Money Copyright © 2007, FT Press. Used by permission of FT Press, and Pearson Education. All rights reserved.
To order this book, buy on Amazon.