Basic Rules for Financial Freedom: Get in the Wealthy Mindset
| | | |
| --- | --- | --- |
| | 4 of 10 | |
See Wealth as a Friend, Not an Enemy
---
We all have to handle money. We all have bank accounts and credit cards and loans and overdrafts and mortgages. We all deal with the paraphernalia of money every day of our lives. We all need/want more. So what's the problem?
It's all about what goes on in our heads. Like you, I handle money, spend money, and save money. And I want to do so more efficiently, more happily.
So before I could write this for you, I had to undergo a rigorous investigation of my own motives, myths, and inherent stuff. And I came to accept that money is neither good nor bad, neither friend nor foe. It is not the evil we have come to believe. Without it, life disintegrates. Money is the oil that smooths life for all of us.
Repeat after me: Money is fine. Money is great. Money is necessary. Money is okay. Money is my friend, not my enemy. Repeat this under your breath, of course, or your family and friends will think you've gone nuts. Learn not to fight money or be embarrassed about having it when you do.
Finally, having money, working toward getting wealthy, doesn't mean you have to change your politics at all. You can be left-wing -- radical even -- if you want. One of the richest men in Britain is a Labor minister (Lord Sainsbury). Having money won't detract from that at all. Having money won't lessen your spiritual virtues or your karmic harmonics or affect your future incarnations. I promise. What you do with it might, but money is inherently your friend, not foe.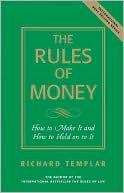 From The Rules of Money Copyright © 2007, FT Press. Used by permission of FT Press, and Pearson Education. All rights reserved.
To order this book, buy on Amazon.