Basic Rules for Financial Freedom: Get in the Wealthy Mindset
| | | |
| --- | --- | --- |
| | 8 of 10 | |
Know the Difference Between Price and Value
---
I once asked my delightful father-in-law to explain that thing about wine to me. You know, can a bottle that costs $200 in a top restaurant really be twenty times as good as a bottle that you can get for $10 at the local shop?
His answer was interesting. He said that you aren't paying for the wine alone. What you are paying for is the ambience, the service, the location (we're talking Le Cirque or at least Four Seasons here), the wine waiter's expertise, the good company, the fine tablecloths, the privacy and discretion, the style and class, the tradition, the food and the trust, the humidity and storage, the tone and the surroundings, the fellow dining guests, and the great conversation.
The wine is almost an irrelevance, and that's the point. We think we know the price of something. But the value can spread out far beyond all of that.
Remember, too, that something is worth only what others are willing to pay for it. A catalog may say the value of a painting is $1,000, but that's only true if somebody is willing to pay that amount for it. An important lesson to learn. The price of something can be far less than its actual value, either to you or to somebody else. Or a lot more.
Next: It's Harder to Manage Yourself Than It Is to Manage Your Money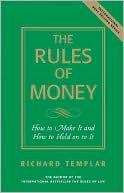 From The Rules of Money Copyright © 2007, FT Press. Used by permission of FT Press, and Pearson Education. All rights reserved.
To order this book, buy on Amazon.