Basic Rules for Financial Freedom: Make Wealth Happen
| | | |
| --- | --- | --- |
| | 13 of 15 | |
Create New Income Streams
---
When it comes to wealth-creation strategies, investing wisely and managing your money actively are important, but nothing beats having more coming in the first place. Everybody benefits from some thought about where his income comes from and how he could create another source of revenue.
It's a bit like being a street musician and having good spots to play at. If one is proving unprofitable, you can pack it in and go somewhere else. But instead of packing it in, what you are going to do is duplicate yourself -- a cloned you, if you like -- and not only carry on playing on one street but also be playing in a new place at the same time. The more hats you have out, the more they are likely to return a profit.
Look, don't take my word for this. Check it out yourself. Look at any prosperous person you admire, and see if diversity isn't his tool for unlocking greater prosperity. The rich usually have several money-making schemes going for them.
This is especially important for anybody who loves his work but isn't paid well. What you need is another income stream.
There are a couple of ways of doing this. The first is to turn surplus cash into assets that will work for you and bring in income, even when you aren't there. Rent from a rental property would be one example, or annual dividends from shares you've bought. The other way to create new income streams is to find ways of using your skills and expertise in more than one setting, so you aren't just swapping your labor for a paycheck in your day job.
This doesn't mean packing in your day job necessarily. It might mean, for example, doing some freelance work, either in the same area or a completely unrelated area where you also have skills and expertise. (Maybe you have a hobby, which means you have other skills and expertise that could be used?) Is there anything you could teach or consult on or that you could set up as a business?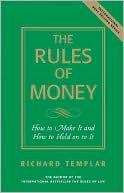 From The Rules of Money Copyright © 2007, FT Press. Used by permission of FT Press, and Pearson Education. All rights reserved.
To order this book, buy on Amazon.