Basic Rules for Financial Freedom: Make Wealth Happen
| | | |
| --- | --- | --- |
| | 2 of 15 | |
You've Got to Have a Plan
---
Why are a fool and his money so easily parted? Because the fool doesn't have a plan. If you don't have a plan, you'll be tempted to fritter your cash away, spend it instead of investing, or forget the new business idea or career move. If you have a plan, you know exactly what does and what doesn't fit into it.
First things first. If you have a job you love and are happy, then you'll probably want to stick with it. If it doesn't make you enough money, you need a plan to generate income another way. If your job is making you miserable and, what's worse, keeping you in a poverty trap, you must prioritize getting out of it in your plan.
Your plan should involve taking financial control of your life. If you have debts, it will definitely include tackling these as a priority. Ditto about spending excesses. The plan might involve a career change, investigating a business idea, investing money, or generating some capital so that you can enter the market. It may well include selling things. A lot of money is generated through selling things -- whether it's a product, a service, or your time and skill. That's why I like writing books -- even while I sleep, there is a bookshop somewhere that is selling books for me. In fact, one of the fundamental truths about getting rich is that wealth -- real wealth -- comes from doing deals, not from earning wages, salaries, or fees.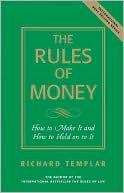 From The Rules of Money Copyright © 2007, FT Press. Used by permission of FT Press, and Pearson Education. All rights reserved.
To order this book, buy on Amazon.