Basic Rules for Financial Freedom: Make Wealth Happen
| | | |
| --- | --- | --- |
| | 5 of 15 | |
You Have to Work Hard to Get Rich Enough Not to Have to Work Hard
---
I cannot emphasis how strongly I feel about this one. I watch and learn from the seriously wealthy and have reached the conclusion that in nearly every case, they worked like crazy to get where they are. They often started early. They worked late into the night. They sacrificed a lot. They didn't take long lunch breaks. They didn't waste time. They didn't watch television in the evenings. They worked their socks off. They knew money doesn't grow on trees.
Let me make one very important point here. This Rule does NOT mean that if you work hard at anything, you will become wealthy. An office cleaner on minimum wage will not become rich by working all hours as an office cleaner or by cleaning really hard and thoroughly. He might, however, become rich by starting his own cleaning company, working very hard at getting it off the ground and finding new clients, and making sure his staff is great, happy, and motivated.
What I'm saying here is that even if you've got a great business idea or have some money to invest in shares, you will only maximize your return if you work really hard at your idea or invest the money wisely and manage it carefully. You have to put the effort in before you can reap the dividends.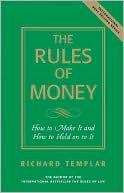 From The Rules of Money Copyright © 2007, FT Press. Used by permission of FT Press, and Pearson Education. All rights reserved.
To order this book, buy on Amazon.