Basic Rules for Financial Freedom: Make Wealth Happen
| | | |
| --- | --- | --- |
| | 6 of 15 | |
Learn the Art of Negotiating
---
The art of negotiating will stand you in good stead in so many different situations -- from negotiating a simple pay rise to negotiating in your relationship with your partner to negotiating with your kids over pocket money. If you learn this art, everything will move along easily and smoothly, and you will get what you want -- and they will get what they want, too. Win/win.
There are a number of rules about negotiating that you need to keep in mind:
Always know your bottom line -- the point beyond which you will not go.
Always know what it is you want -- the goal, the end product, the target. There's no use negotiating if you don't know what you are negotiating for.
Always aim for win/win.
Always remember that negotiating isn't just about stuff -- it has powerful emotional ramifications as well.
Know the importance of each point -- some you can let go of, some you can't.
Always be prepared to give up things to secure other things -- be flexible and fluid.
Always know as much as possible before you start -- knowledge is power in these situations.
Understand what people aren't saying as much as what they are saying -- watch their body language and facial expressions.
Stay cool and patient.
Negotiate successfully for everything you want at the beginning -- you can't negotiate afterward. No one will go back over a contract you've signed when you realize you don't like it.
Find out exactly what others want (what they'll trade or concede), and get all their shopping list before you start negotiating. Hide yours.
Don't make concessions -- trade them.
Create more variables -- discounts, delivery, payments, stages, and so on.
Go for the best deal you can possibly justify. Coming down later is easy; going up later is almost impossible.
Next: Understand That Working for Others Won't Necessarily Make You Rich -- But it Might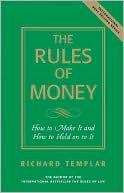 From The Rules of Money Copyright © 2007, FT Press. Used by permission of FT Press, and Pearson Education. All rights reserved.
To order this book, buy on Amazon.