Basic Rules for Financial Freedom: Make Wealth Happen
| | | |
| --- | --- | --- |
| | 7 of 15 | |
Understand That Working for Others Won't Necessarily Make You Rich -- But it Might
---
Most of us assume that we'll never make it to greater prosperity while we are working for someone else -- that only by being entrepreneurial will we become wealthy. And for a lot of us this may well be true -- there is a limit as to how much you can earn per hour in return for your labor. However, there are some who do make it good this way.
We shouldn't overlook the fact that being employed may be the best route for us and that we don't have to run our own business. There are whole categories of employees who are doing quite nicely, thank you -- for example, a friend of mine works in corporate insurance, and he's extremely wealthy thanks to large commission payments. He says he wouldn't be any better off working for himself.
Many people working in the computer business opted to become contractors because they assumed they would earn a lot more. Some did, but at the cost of stability. When the contracts dried up, some were worse off than when they were employed. But for some, this was indeed the best way to go, and they have made handsome sums by becoming self-employed.
I guess you have to keep an open mind about this one and not be driven by assumptions. You can make yourself quite unhappy by forcing yourself into self-employment if this isn't the right way for you. Perhaps the stability of employment is a greater priority, and you should stick with it and not feel compelled to start your own business.
Next: Spend Less Than You Earn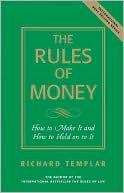 From The Rules of Money Copyright © 2007, FT Press. Used by permission of FT Press, and Pearson Education. All rights reserved.
To order this book, buy on Amazon.