Basic Rules for Financial Freedom: Make Wealth Happen
| | | |
| --- | --- | --- |
| | 8 of 15 | |
Spend Less Than You Earn
---
I'm amazed how many people flout this simple but most golden of all golden rules. You have to live within your means. Control your spending. Allow yourself to create a little bit of savings, with which to generate more income. (Remember the rabbit farm? You can't breed more rabbits if you sell them all.)
This is about being informed and in control. You need to know what your income is and what your expenses are. We'll talk later about how to curb spending and make savings and how to cut up your credit cards if they've let you down--they do that sometimes, evil little things.
You also need to know
Any expenditure that is likely to come up
Any provision you've made for contingency plans
Any future income you may be entitled to in the way of interest or investments coming to fruition
And that really is about it. Where people go wrong is not whether they earn enough or spend too much -- both of those are fairly easy to overcome. No, the biggest mistake is not knowing what you are doing, where you are financially, and what is up ahead.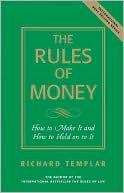 From The Rules of Money Copyright © 2007, FT Press. Used by permission of FT Press, and Pearson Education. All rights reserved.
To order this book, buy on Amazon.