Essential Rules of Parenting: How to Stay Sane
Your sanity isn't only important because you are important, but also because your children need sane parents. And there are just a few Rules that you'll find, after you get the hang of them, help you keep your head when your children are crying theirs off.
(Excerpted from "The Rules of Parenting" by Richard Templar)
| | | |
| --- | --- | --- |
| Previous | 1 of 7 | |
Relax
---
So who are the best parents you know? The ones who have a seemingly instinctive ability to say and do the things that result in happy, confident, well-balanced children? Have you ever wondered what makes them so good at it? Now think about the ones you privately think are not capable. Why not?
All the best parents I know have one key thing in common. They're relaxed about it. And all the worst ones are hung up on something. Maybe they're not stressed out about how good they are as parents (perhaps they should be), but they're hung up about something that affects their ability to be a really good parent.
I know a couple of parents who are neurotically clean and tidy. Their children have to take their shoes off at the door or the whole world falls apart -- even if the shoes are clean. They get really uptight if their children leave anything out of place or make any kind of a mess (even if it gets cleaned up later). It makes it impossible for the kids just to relax and enjoy themselves, in case they get grass stains on their pants or knock over the ketchup bottle.
The really good parents I've encountered, on the other hand, expect their children to be noisy, messy, bouncy, squabbly, whiny, and covered in mud. They take it all in stride. They know they've got 18 years to turn these small creatures into respectable grown-ups, and they pace themselves. No rush to get them acting like adults -- they'll get there in good time.
Next: Know What You're Good At
More on: Mom's Life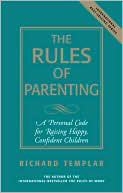 From The Rules of Parenting Copyright © 2008, FT Press. Used by permission of FT Press, and Pearson Education. All rights reserved.
To order this book go to Amazon.