Essential Rules of Parenting: How to Stay Sane
| | | |
| --- | --- | --- |
| | 2 of 7 | |
Know What You're Good At
---
When my oldest children were small, I was always jealous of those other dads who spent hours tossing a football around with their children. I felt slightly guilty that I couldn't do it for more than a few half-hearted minutes. It just wasn't me.
Then there was the friend who built a fabulous treehouse for his kids in their back garden ("Dad, why can't we have a treehouse like theirs?".) And the mother who created complex and intriguing treasure hunts for every party. And the one who took her daughter to the same ballet class as mine every week but managed to look as if she were actually enjoying it, and…I could go on.
You're probably ahead of me here. I was focusing on what they could do that I couldn't, but actually I could do lots of things they couldn't -- all things I took for granted, but just as valuable.
For example, I love reading aloud to children. And being a fairly outgoing kind of a guy (alright, verging on the exhibitionist), I really relished spending hours reading long stories, doing all the voices and accents and characterizations and sound effects and dramatic whispers and all the rest of it. But it seemed so natural that it was years before I realized that it was just as valuable a skill as treehouse -- building or playing football.
It's important to know what you're good at and to have confidence in your own strengths. That way, you can watch other parents doing things that you never could without feeling inadequate. After all, you and I both know that those other parents can't do everything either. Whenever you feel a hint of jealousy rising, just stop and remind yourself of what you're great at.
More on: Mom's Life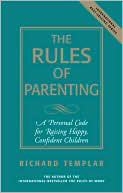 From The Rules of Parenting Copyright © 2008, FT Press. Used by permission of FT Press, and Pearson Education. All rights reserved.
To order this book go to Amazon.