Essential Rules of Parenting: How to Stay Sane
| | | |
| --- | --- | --- |
| | 3 of 7 | |
Almost Any Rule Can Be Broken Occassionally
---
We all know that there are rules and systems and procedures and policies that must be followed if you're a parent. You know the sort of thing: Don't feed them junk food, don't let them stay up too late, don't let their eyes cross in front of the TV, don't allow them to swear until they're old enough.
What we Rules parents also understand is that there are very few rules that you can't break with a good enough reason. Okay, you're supposed to feed them good healthy food and the recommended "5 a day," but when you get home tired after a long day, it's not the end of the world to give them fish sticks once in a while.
It's just a matter of thinking through what's the worst that can happen if you break this rule. Sure, if you break the rule about buckling your seat belt up in the car the worst is pretty dire, so best keep to that one. But if you skip the bedtime bath because you're all exhausted -- well, come on, how bad can that be?
Remember, this section is about Rules for staying sane. And the point of this Rule is to recognize that it's more important for your children to have a sane, relaxed parent than it is never to eat a fish stick. Some parents make life far too difficult for themselves by thinking that it's essential to stick to every rule at all times. They beat themselves up over some tiny thing.
More on: Mom's Life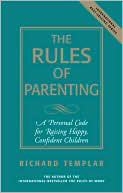 From The Rules of Parenting Copyright © 2008, FT Press. Used by permission of FT Press, and Pearson Education. All rights reserved.
To order this book go to Amazon.