Essential Rules of Parenting: How to Stay Sane
| | | |
| --- | --- | --- |
| | 4 of 7 | |
Don't Try to Do Everything
---
So what do you want your child to be when she grows up? Champion jockey? Ballerina? Scientist? Professional athlete? Concert violinist? Actor? Hard to be sure when they're young, so maybe you should keep all their options open by making sure they have extra lessons in everything they show any interest in. That way they can't complain later that it's your fault they failed because you didn't start them young enough.
It does make for a bit of a busy schedule of course. Football on Monday, drama on Tuesday, clarinet on Wednesday -- and swimming after that. Thursday is ballet and Friday he goes to the gym. And horse riding lessons on the weekend. And that's just one child. It gets really fun if you have two or three.
Whoa. Hold on there. We're missing something. What about playing happily in the garden? What about learning to find their own entertainment? Where in the weekly schedule do they manage to browse through a comic, or even just lay in the grass staring at the clouds and thinking of nothing in particular? These are all vital parts of growing up, too.
You know all those kids whose life is one long round of lessons and practice and extra tutoring? Have you ever seen what happens when you ask them to fend for themselves for a few days? Suppose they go on a vacation to some beautiful, peaceful place -- the mountains, or the coast, or rolling countryside. Clueless, that's what. They've no idea how to enjoy themselves -- they've never had time to learn. That's going to make adulthood really tough for them. They can't ever relax because no one's ever taught them how to.
Don't panic; I'm not suggesting you ban your children from all extra-curricular activities. That would just be silly. But I am suggesting you limit them to, say, two activities a week. And let them choose which two. No making them learn the violin just because you learned it as a child and loved it. Or because you never learned it and wished you had. If they want to take up something else, they'll have to drop one of their current activities to make room. (Yes, they're allowed to drop ballet if they hate it, even if the teacher did say she thought they had real talent.)
More on: Mom's Life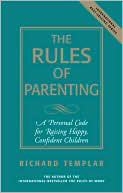 From The Rules of Parenting Copyright © 2008, FT Press. Used by permission of FT Press, and Pearson Education. All rights reserved.
To order this book go to Amazon.