Essential Rules of Parenting: How to Stay Sane
| | | |
| --- | --- | --- |
| | 6 of 7 | |
Don't Ignore Your Relationship with Your Partner
---
This Rule is pretty obvious. The tough bit is actually doing it. Lots of parents pay it lip-service, but far fewer make sure it happens. But you and I know that it really is one of the most vital Rules of them all, if you don't want to end up doing this whole parenting thing on your own.
You loved this person enough to have babies with him. That's serious stuff. He should still be the most important person in your life. He may take up less time and possibly demand less attention than your children, but he should still be the object of your love. Having children changes your relationship more than you might have thought possible, but 20 years on it'll be you and your partner again just like it was at the start. And if he's not the most important thing in your life, you're going to be screwed when the kids leave home. And so are the kids -- leaving home is tough enough without feeling you're tearing your parents' world apart in the process. They need to know that you love each other best of all. That frees them up to get on with their lives and, eventually, find a partner they can love even more than they love you.
Part of the solution is logistical. Aim to go out on your own together once a week. If you can't afford a babysitter, find some other parents and take it in turns to mind each other's kids. Then just go for a walk or have a picnic in the park. Something. Anything. Just make sure you perpetuate that "just the two of us" life you had before.
Next: More popular galleries
More on: Mom's Life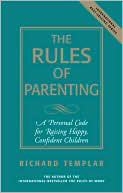 From The Rules of Parenting Copyright © 2008, FT Press. Used by permission of FT Press, and Pearson Education. All rights reserved.
To order this book go to Amazon.