The 14 Rules of Long-Lasting Relationships
| | | |
| --- | --- | --- |
| | 11 of 15 | |
Make Time for Romance
---
This can be so hard if you get bogged down in work and kids a few years into your relationship, but that's when it's most important. The less time there is for romance, the more you need it.
You can't expect the passion and the excitement in your relationship to last if you've abandoned the romance. That's the bit that stokes the fires, so you need to find some way to keep it going. Flowers and romantic dinners for two in glamorous restaurants are great, but the time and the budget may not stretch that far. So you're going to have to get a bit more inventive. Come on, you know your partner well enough by now to have a pretty good idea how to romance them.
If you can get out of the house and away from the kids, why not go for a romantic woodland walk or a picnic in the park? If you live in a tourist area, why not go on one of those tourist boat trips or have an evening at the fair? It can be very romantic if you both get into the spirit.
Between those possibly rare excursions out of the house, there are plenty of ways of being romantic at home. The simplest (and cheapest) of them involves whispering sweet nothings and holding hands on the couch. How about having your dinner in the garden or on the balcony? Cook a favorite meal -- it doesn't have to be fancy -- and maybe put a cloth on the table or break out the best glasses, and have your romantic dinner for two.
Next: Share the Workload
More on: Marriage and Divorce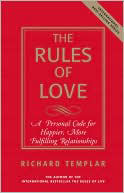 From The Rules of Love Copyright © 2009, FT Press. Used by permission of FT Press, and Pearson Education. All rights reserved.
To order this book go to Amazon.