The 14 Rules of Long-Lasting Relationships
| | | |
| --- | --- | --- |
| | 4 of 15 | |
Be Honorable
---
If you want your partner to hold their head high whenever they're out with you, to feel proud of you, you need to make sure that you always act with
Integrity
Honesty
Compassion
Thoughtfulness
Kindness
Whether you're dealing with a difficult colleague or your child's teacher, you need to make sure you always act in a way that needs no justification. Of course, this is easy sometimes but sometimes it's a real challenge. If you don't do it, your relationship will suffer.
Your partner should never be expected to cover up for you, make excuses for you, or apologize for you. It's not acceptable to go with them to a social event and then be embarrassingly drunk. It's not okay to ask them to lie to your boss and pretend you're ill when you're not. It's not fine if they are rude to somebody you have to deal with. It's certainly not alright to break the law --- even a minor driving offense --- and then expect your partner to be happy about it.
I know of a couple where the woman is universally adored by all her neighbors, but the husband is avoided like the plague. He interferes, offends, irritates, and is domineering -- and after he has ruffled everybody's feathers, the woman has to try and continue as normal. Now actually all her neighbors feel very sorry for her, as they also hear the way the man treats her and feel she deserves better, but that's not the point. He shouldn't be making her spend half her life apologizing for him (or even cause her to feel embarrassed every time she leaves the house).
No one wants to be associated with someone tactless, unkind, rude, or thoughtless. Certainly that's not a burden you should be placing on your loved one. Your partners own self-esteem will suffer quite a lot.
Next: Put Each Other First
More on: Marriage and Divorce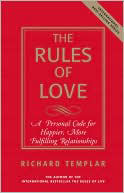 From The Rules of Love Copyright © 2009, FT Press. Used by permission of FT Press, and Pearson Education. All rights reserved.
To order this book go to Amazon.