10 Tools for Parenting Happy, Healthy Children
Doing some of these things may be hard work; some of them will come naturally. Irritatingly, some of the pieces you find difficult will come naturally to your partner, but that works both ways. On the plus side, however, working on the difficult pieces will help you realize just how much of what you do for your children isn't so important. Best of all, after you have these 10 bases covered, you can stop stressing about the rest, and get on with being a great parent and enjoying your child.
| | | |
| --- | --- | --- |
| Previous | 1 of 11 | |
Make Their World Solid
---
Few things are more important than giving your children confidence and self-assurance. Those are qualities that will enable them to get the rest of what they need for themselves.
Self-confidence comes largely from being confident in the world around you. If you can trust your own world to be solid and unchanging (in the right ways) it's far easier to be sure of your own place and personality within it. Your job is to make sure that everything important in your children's world is consistent.
On top of that, you need to make sure they feel good about themselves. You need to tell them how kind they are, not how selfish they are. You need to remind them that being the fastest swimmer isn't as important as being a good loser. You need to show them that they can do more than they realize, and that you believe in them.
More: Make Sure They Know Their Strengths
Next: Give Them Some Magic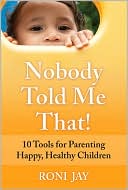 From Nobody Told Me That! 10 Tools for Parenting Healthy, Happy Children Copyright © 2009, FT Press. Used by permission of FT Press, and Pearson Education. All rights reserved.
To order this book go to Amazon.