10 Tools for Parenting Happy, Healthy Children
| | | |
| --- | --- | --- |
| | 10 of 11 | |
Give Them Each Other
---
I firmly believe that if you have more than one child, the absolute most important thing you can possibly do is to make sure that they have a really strong bond with each other for life. However good your friends are, family is better. When you go through the real crises in life—divorce, bereavement, the big stuff—it's your family you want beside you. And if things go right, it's your family who you want to be there, dropping everything and flying halfway round the globe if need be.
More: Encourage Them to Play Together
Next: More popular galleries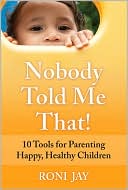 From Nobody Told Me That! 10 Tools for Parenting Healthy, Happy Children Copyright © 2009, FT Press. Used by permission of FT Press, and Pearson Education. All rights reserved.
To order this book go to Amazon.