10 Tools for Parenting Happy, Healthy Children
| | | |
| --- | --- | --- |
| | 2 of 11 | |
Give Them Some Magic
---
I've never understood how so many parents join in the Santa Claus conspiracy (well, you have to, or you would be ostracized by all the other parents at school) but don't provide their children with any other magic. Yet, magic is what childhood is all about—freedom from tedious reality, freedom from responsibility, freedom from the constraints of adult life. Over the 18 years we have to raise our children, we have to slowly feed them reality, responsibility, and obligations, but we should be fighting to keep the magic alive as long as we can.
Give Them Space
The first and most basic requirement children need to enjoy the magic is a blank canvas. They can do magic all by themselves, they just need us to get out of the way. Small children can believe in all sorts of things we can't. Their bedroom floor really is a miniature battlefield, the backyard kiddie pool becomes an Olympic pool, and those Legos are really a spaceship.
What's more, children are free of the forethoughts that can ruin things for us. When I was about 18, I laid on a beach and let the waves wash round me. As much as I enjoyed the sensation, I couldn't entirely shake off the thought of what a pain it was going to be to wash all the sand out of my long hair. (I didn't know the half of it—it took hours.) Small children can get blissfully covered in mud or paint without a thought about all the cleanup they'll have to go through to get it all off—as long as we keep our mouths shut and don't spoil it for them by pointing it out.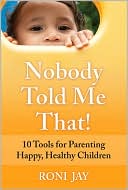 From Nobody Told Me That! 10 Tools for Parenting Healthy, Happy Children Copyright © 2009, FT Press. Used by permission of FT Press, and Pearson Education. All rights reserved.
To order this book go to Amazon.