10 Tools for Parenting Happy, Healthy Children
| | | |
| --- | --- | --- |
| | 3 of 11 | |
Show Them How to Separate Right from Wrong
---
We all make mistakes. We know we do, and we also know it's human and it's normal. Trouble is, we often don't like admitting it in front of our children. But it's important that our children can tell when they've made a mistake. They should know that it's mostly fine to make mistakes, but they also need to know the difference between right and wrong in every situation. They need to be able to make the morally right choice when it matters.
You want them to think for themselves. But as a parent you want to underpin this by making sure that what they think for themselves isn't, "If I steal this chocolate bar no one will catch me," or, "I know my friend's in trouble but I'm busy and, if I don't help, someone else is bound to step in." You have 18 years to instill in them the values you believe are important, so that when they think for themselves, they do it on the foundations you've laid.
More: How to Instill the Right Values
Next: Teach Them to Think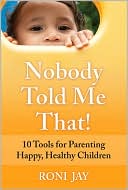 From Nobody Told Me That! 10 Tools for Parenting Healthy, Happy Children Copyright © 2009, FT Press. Used by permission of FT Press, and Pearson Education. All rights reserved.
To order this book go to Amazon.