10 Tools for Parenting Happy, Healthy Children
| | | |
| --- | --- | --- |
| | 4 of 11 | |
Teach Them to Think
---
Thinking isn't only about being able to apply logical mental processes, though that's an important part of it. It's also about being able to formulate ideas and opinions, and make decisions for oneself. Good teachers can help with this skill, but the bulk of the job is up to us as parents. Certainly if our children reach 18 unable to think effectively, we've no one to blame but ourselves.
More: Decision-Making Techniques for Children
Next: Let Them Lead You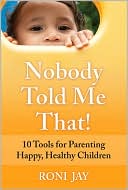 From Nobody Told Me That! 10 Tools for Parenting Healthy, Happy Children Copyright © 2009, FT Press. Used by permission of FT Press, and Pearson Education. All rights reserved.
To order this book go to Amazon.