10 Tools for Parenting Happy, Healthy Children
| | | |
| --- | --- | --- |
| | 5 of 11 | |
Let Them Lead You
---
It's so easy as a parent to see yourself as the leader of the family (barring the odd wrangle over which parent is boss). You're the oldest, so you take charge and the kids do what you say, all being well. And, in one sense, this set up is true. There's definitely a time and a place for the "do-as-I-say-without-question-and-now" approach.
But in a family you're the leader of a rather special team, with avery special purpose: to develop all team members to reach their maximum potential. And the way to do that will vary according to the team members' unique personalities. Whether you have one child or several, a good leader will listen to her team and adapt each task to suit the individual members.
This doesn't mean not having control or discipline or expecting respect: All the team members still have to get involved and pull their weight. It's just a case of how you go about things in order to get the best from your children, and to make the most of who they are, without trying fundamentally to change their personality and natural strengths and weaknesses.
More: Let Them Be Themselves
Next: Forget Quality Time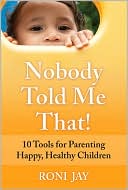 From Nobody Told Me That! 10 Tools for Parenting Healthy, Happy Children Copyright © 2009, FT Press. Used by permission of FT Press, and Pearson Education. All rights reserved.
To order this book go to Amazon.