10 Tools for Parenting Happy, Healthy Children
| | | |
| --- | --- | --- |
| | 7 of 11 | |
Make Sure You See the Forest and the Trees
---
It can be infuriating when your six-year-old still won't use a knife and fork to eat. Or your 12-year-old can't pack his school bag on his own without forgetting half the things he needs. Sometimes you want to scream at your kids for the mess they leave lying around, or their inability to think ahead, or to hold a conversation with an adult without clamming up.
The key thing to keep in mind, for your sake as well as theirs, is that you have 18 years to prepare them for the big wide world. When you despair of them, step back and look at how far you've come (at least you're not spoon-feeding your six-year-old any more) and how far you still have to go (she does need to learn to use the knife properly).
It's important that you pace yourselves here—both you and your child. It's not fair or necessary to pile on the pressure so that your children are fully independent by the age of seven, but neither is it fair to send them out into the world unable to use a washing machine or to eat a meal in public without disgracing themselves. So the best thing you can do for your children is to concentrate on the immediate objective without losing sight of the final target.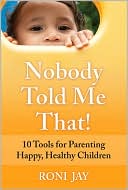 From Nobody Told Me That! 10 Tools for Parenting Healthy, Happy Children Copyright © 2009, FT Press. Used by permission of FT Press, and Pearson Education. All rights reserved.
To order this book go to Amazon.