10 Tools for Parenting Happy, Healthy Children
| | | |
| --- | --- | --- |
| | 8 of 11 | |
Teach Them the Value of Money
---
When your children finally grow up and leave home, you don't want them getting into debt. Very possibly you want them not only staying out of debt but also not wasting their money, or spending when they could be saving. Nor do you want them to be insensitive toward other people who have less than they do, whether it's a friend on a lower salary, or a child starving on the other side of the globe.
Give Them Some Money So They Can Start to Understand It
It's not as if the kids aren't costing you enough already. But, yes, it is the norm to give your children money as well. You could insist they have only what they can earn (which is pretty tough when they're small), but the vast majority of parents do give their children an allowance or money in some form. We look at earning money later on.
More: Pay an Allowance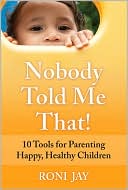 From Nobody Told Me That! 10 Tools for Parenting Healthy, Happy Children Copyright © 2009, FT Press. Used by permission of FT Press, and Pearson Education. All rights reserved.
To order this book go to Amazon.